Oh my goodness you won't believe this even I am still in shock…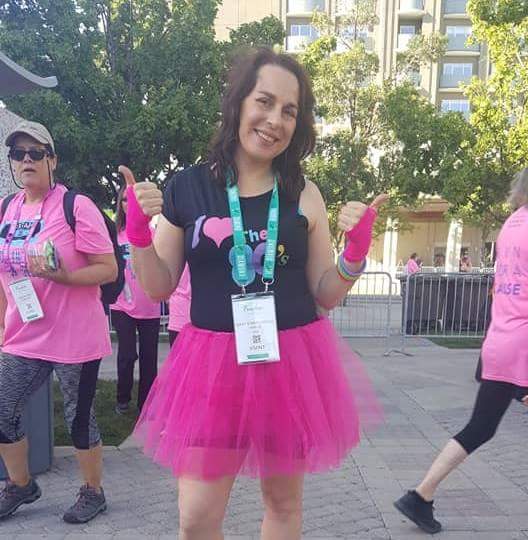 Convention was a beautiful and one of the most wonderful experiences of my life. God was so present every minute of every day.
From the connections with so many of you at the AROMASHARE event, meeting and praying for you in the hallways, hearing the heart of Mary Young about the greatness of her husband and his dedication to Young Living.
Running… I mean, walking a 5K in a tutu, doing an impromptu Raindrop teaching session for a group of friends, meeting and learning from successful team members,
And giving and raising more than $2000 dollars to free children from sex slavery, get boys out of the slums, rehabilitate these broken children and give them a new beginning.
Then… I WON A MOTORCYLE at the Young Living Grand Convention
All of that would have been enough. But God put it on my heart about 10 days ago that I was going to win a MOTORCYCLE. Yup He told me…. and I told many of my friends.
In fact some of you were screaming when I won too because I told you too. See it was my friend Chip Kouwe's special 2006 motorcycle that he had painted with the original Young Living logo that was from when I started Young Living. He also had a special dedication of our founder Gary Young on the bike. I talked to my husband and he gave me the okay to buy a lot of tickets for it especially when I told him that proceeds went to free children out of slavery.
Although God told me I was going to win, and although I bought a good amount of tickets, I was still shocked when I did win. You have got to watch the video it will make you smile all day! Watch the video here….
Next week you will hear from my friend Rebecca Halton on her experience at her first Young Living Convention. She was my roommate for Convention and of course was helping me most of the week so some of our experiences were the same. But I can't wait for her to share about our Wellness Session with a World Renowned Health Practitioner. Things like that only happen at Young Living Events. They are the BEST!
What is your favorite convention memory?