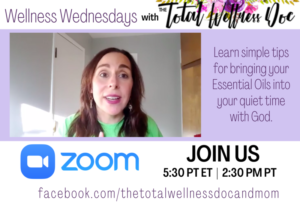 Would you like more than $1000 of FREE Education every year?
Would you like proven step by step strategies to help you lose weight, overcome depression, and get out of pain?
Would you like to know how your family can stop living paycheck to paycheck and be able to take vacations debt free?
Dr Mary Starr the Total Wellness Doc teaches a class most Wednesdays LIVE to her Total Wellness Community.  She provides the replays, teaching notes, and bonus Resources to her subscribed community members.
If you are serious about Total Wellness the Subscribe Below for FREE.  And learning and doing what these individuals have done in their lives and family.
" I feel the best I have ever felt.  I have released 35 lbs, my asthma is no longer bothering me and I don't need drugs to sleep or relax."  AL
"Dr Mary is so encouraging. Her messages, classes, and e-books feel  like they are talking directly to me.  I get results from her guidance."  CH
" I struggled in my marriage for years until I finally followed through on one tip Dr Mary shared. It has changed everything for me." KK
"I attended one of her classes and was on my last straw of hope. I didn't expect to find the solution to my chronic migraines.  I had given up on ever getting rid of these suicidal pain type headaches.  She shared one story, I did my research and tried it. Today I can tell you my migraines are under control, I have hope and purpose and no longer am living in despair. Thank you Dr Mary."  AB
"What is different about the Total Wellness Doc website is that it covers Whole Wellness.  Dr Mary has a beautiful way of incorporating all aspects of wellness from paying off debt, having a passionate marriage, to parenting with a purpose and living healthy and happy. "  KC
This Month's Bonus Class includes:
THE HUB OF HEALTH PRESENTATION:   You have heard about cleansing but do you really understand and know what cleanses might be the best and most lasting to you.   In this Bonus Class you will get an overview and better understanding of Cleansing as well as Step by Step directions to what will work best for you.