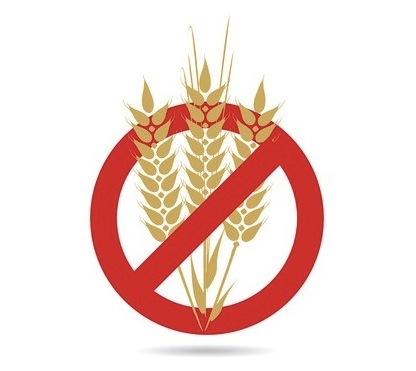 It's not your fault! Almost all of us were being told to eat more wholesome whole-wheat products when we were growing up.
According to Health.gov, in early 1977, the Senate Select Committee recommended that the American diet:
● Increase carbohydrate intake to 55 to 60 percent of calories
● Decrease dietary fat intake to no more than 30 percent of calories, with a reduction in intake of saturated fat, and recommended approximately equivalent distributions among saturated, polyunsaturated, and monounsaturated fats to meet the 30 percent target
● Decrease cholesterol intake to 300 mg per day
● Decrease sugar intake to 15 percent of calories
● Decrease salt intake to 3 g per day
By 1985, the U.S. Department of Health and Human Services (HHS) and USDA issued a second edition of the Dietary Guidelines for Americans identical to the first that received acceptance including the National Cholesterol Education Panel, Congress and the consumers.
Source: Health.gov
Following the book we read about Ancient Einkorn by Dr. D. Gary Young, the next best thing to discover is cardiologist, Dr. William Davis' work on Wheat Belly. He is the Medical Director and Founder of Wheat Belly Lifestyle Institute and author of several books on Wheat Belly.
On his website, Dr. Davis wrote, "1985: The year the dough hit the fan." In this article he talked about how we went from consuming 26 lbs. of wheat per person per year in 1970 to 133 lbs. in 2011, an equivalent of about 200 loaves of bread per year. Breads here include pretzels, bagels, focaccia, bruschetta, breading, rolls and more.
Dr. Davis pointed out that since 1985 Americans have been getting heavier including triathletes. He observed that 1/3 of triathletes are overweight despite a 'healthy diet' and active lifestyle. CDC's reports on The History of State Obesity Prevalence proved his point.
Here are three maps screenshot from CDC on the dramatic increase in obesity in the United States from 1985, 1995 and 2004. You can read more and see the animated map here.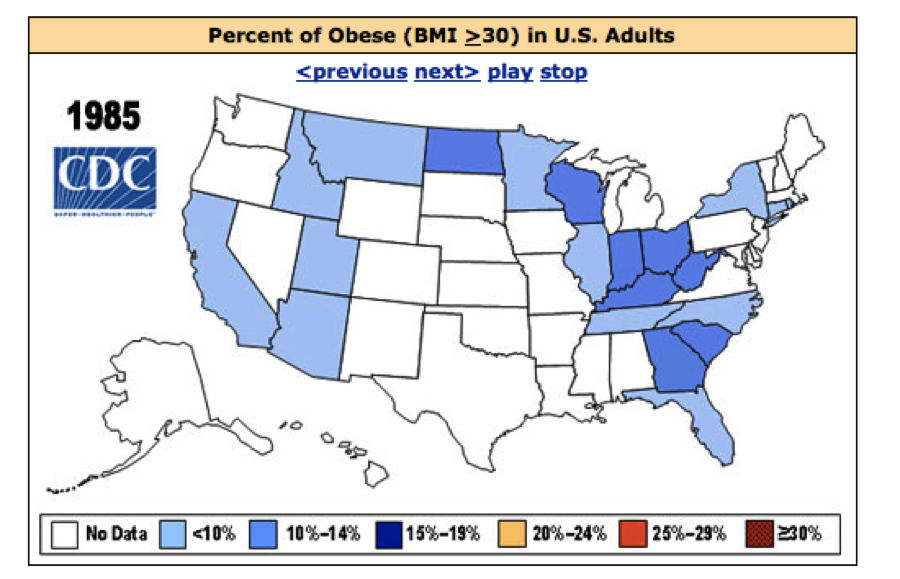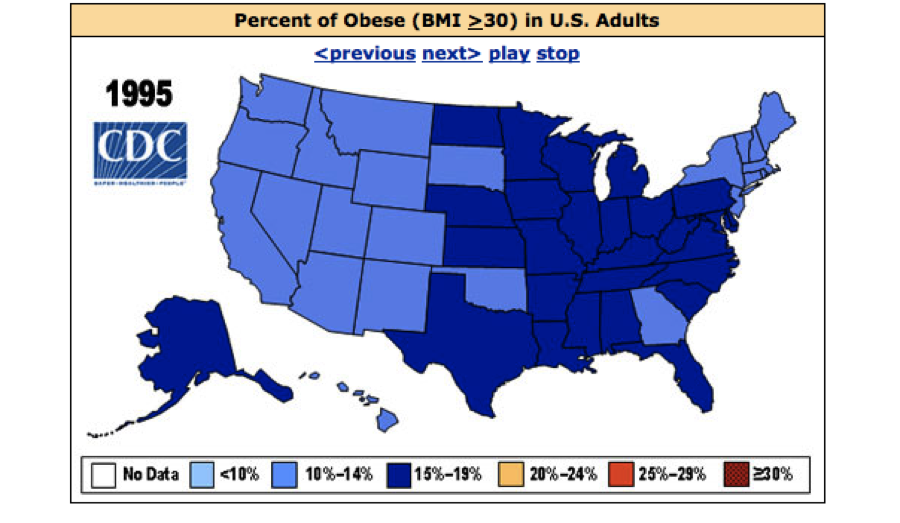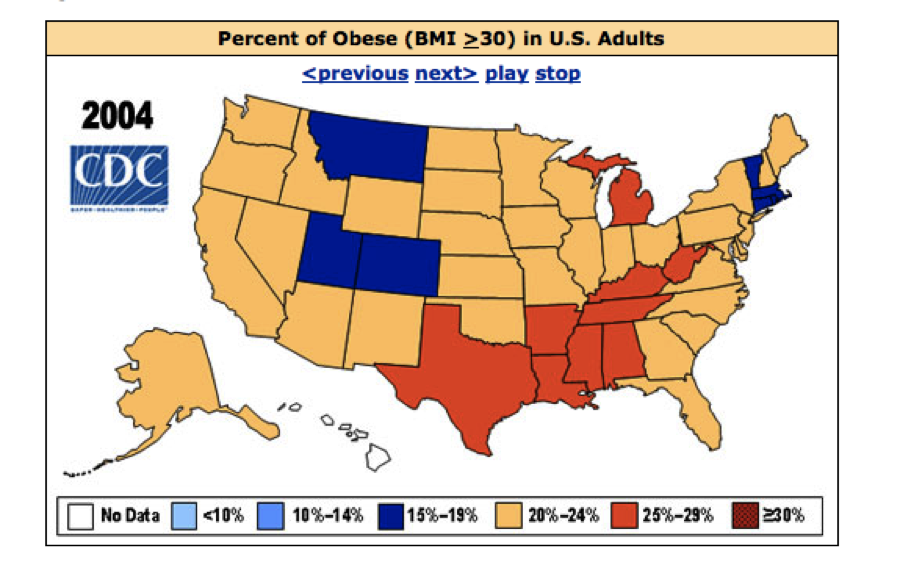 Maps from CDC
By 2012, 13 states had an increase of equal to or greater than 30%. They included Alabama, Arkansas, Indiana, Iowa, Kentucky, Louisiana, Michigan, Mississippi, Ohio, Oklahoma, South Carolina, Tennessee and West Virginia.
In his findings, the number of people suffering from type 1 diabetes increased corresponding to the increase in obesity.
What is wheat belly?
For answers here is a video about it by Dr. Davis:
It is not about the belly or being fat alone.
There are many health problems related to eating modern wheat. Canada's Maclean's Magazine interviewed Dr. Davis in 2011. One of the questions was:
But I'm not overweight and I exercise regularly. So why would eating whole wheat bread be bad for me?
Here is the answer taken from Maclean's Magazine which we put it into three points:
You can trigger effects you don't perceive.
1. Small low-density lipoprotein [LDL] particles form when you're eating lots of carbohydrates, and they are responsible for atherosclerotic plaque, which in turn triggers heart disease and stroke.
So even if you're a slender, vigorous, healthy person, you're still triggering the formation of small LDL particles.
2. And second, carbohydrates increase your blood sugars, which causes this process of glycation, that is, the glucose modification of proteins.
If I glycate the proteins in my eyes, I get cataracts. If I glycate the cartilage of my knees and hips, I get arthritis. If I glycate small LDL, I'm more prone to atherosclerosis.
So it's a twofold effect.
3. And if you don't start out slender and keep eating that fair trade, organically grown whole wheat bread that sounds so healthy, you're repeatedly triggering high blood sugars and are going to wind up with more visceral fat.
This isn't just what I call the wheat belly that you can see, flopping over your belt, but the fat around your internal organs.
And as visceral fat accumulates, you risk responses like diabetes and heart disease.
Read more about it here.
Dr. Davis' website is filled with ways to live wheat-free along with recipes and other recommendations. One of these recommendations we would like to point to you is his article on Wheat Belly-safe flours.
In this article, Dr. Davis showed what he uses for baking-
● Almond flour
● Almond meal
● Ground pecans
● Ground walnuts
● Coconut flour
● Ground golden flaxseed
● Pumpkin seed meal
● Sesame seed meal
● Sunflower seed meal
● Garbanzo bean flour
● Chia seed meal
Here are several places you can buy these meals and flours:
1. Bob Red Mill
2. Amazon.com – in fact you can almost purchase everything from Amazon's online grocery store
3. Traders Joe's
4. Whole Foods Market
5. Wegmans has a wide selection too
During the recent Young Living convention, Dr. William Davis was the presenter on History of Wheat: Take Control of Your Health. He presented a timely topic on the benefits of ancient einkorn wheat and the potential health pitfalls of contemporary hybridized wheat. He also showed the correlations of modern wheat consumption and the rise of metabolic diseases around the world.
Some of the things we learned at the convention from Dr. Davis were-
1. Gliadin, a protein in gluten found in hybridized wheat when partially digested leads to an effect in the brain. Some of these effects mentioned were behavioral outburst especially in children, paranoia, bipolar, depression and increase appetite which may lead to binge eating.
2. Gluten is not the problem but hybridization and chemical mutagenesis are causing many health concerns including diabetes, hypertension, autoimmune conditions and allergies.
As always, check with a health professional and do your own research before taking actions on your health and wellness plans. Dr. Gary said:
But what is important is that after we look at the evidence, study the science, and listen to other people, we make our own decision about what we feel is right for us, not what everyone else thinks is right for us. Experiment and if something works, then do it, irrespective of what science tells you; and if it continues to work, then it must be right for you.
If we don't take care of our health and wellness, no one will. Don't wait until it is too late to take action. You are worth it! For more information and tips on total wellness, please come over to our Facebook page and get your daily tips and inspiration on total wellness for your whole family.
Disclaimer: This information is not meant to diagnose, prescribe, treat or cure any illness or disease. It's strictly for informational, educational, or entertainment purposes ONLY. The products I talk about are not meant to diagnose, prescribe, treat or cure any illness or disease. Any information I give you about them is for informational or entertainment purposes only. They have not been evaluated or approved by the FDA. Please seek the qualified health professional of your choice when making health decisions for yourself, your family and your pets.
{ 0 comments }