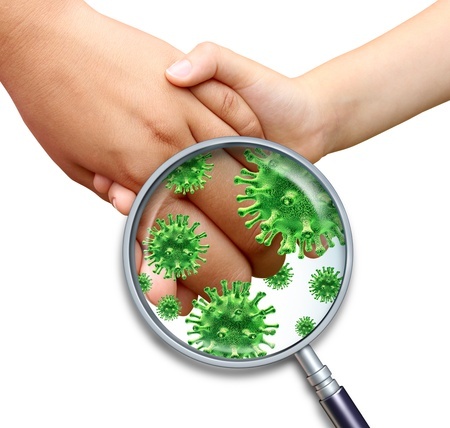 The recent Ebola outbreak sent many families searching for answers on how to protect their family from infectious diseases. My friend Penny LeClair who is a researcher, a person passionate about Jesus Christ and an oiler started doing her research on Ebola. She wrote a highly read article on Ebola Outbreak Prevention.
Her article was shared and liked over two thousand times on Facebook. So I got on the phone and asked Penny if I could do a recorded interview with her. So here is our over an hour chat about-
· What is Ebola?
· Fear and how to identify and resist fear
· Vaccine
· How to protect our family from infectious diseases
· How to increase our immune system
· Essential oils
· How to use essential oils
· Life with and without essential oils including testimonials
· Prayer
· Essential oils of the Bible
· The power of confessing the Word of God
· Why it is powerful when you combine Word of God and essential oils in your life
· Renewal of the mind and how to get our mind align with God's Word
· How to identify the plans of the enemy and how to fight those schemes
· Frequency, essential oils, prayers and Word of God
· What lowers our immune system
· The 5 powerful oils to protect our family from infectious diseases
· And lots of testimonials from Penny and myself
Here is the link to the recording-
http://instantteleseminar.com/?eventid=58539189
Penny has done a lot of research about Ebola. How do you identify signs and symptoms of Ebola?
Signs and symptoms
Ebola is a severe acute viral illness often characterized by the sudden onset of fever, intense weakness, muscle pain, headache and sore throat. This is followed by vomiting, diarrhea, rash, impaired kidney and liver function, and in some cases, both internal and external bleeding. Laboratory findings include low white blood cell and platelet counts and elevated liver enzymes.
People are infectious as long as their blood and secretions contain the virus. Ebola virus was isolated from semen 61 days after onset of illness in a man who was infected in a laboratory.
The incubation period, that is, the time interval from infection with the virus to onset of symptoms is 2 to 21 days. (Read more on Penny's website.)
It is important to protect our families by
1. Increasing immune system
2. Making our body as healthy as possible – there are so many diseases out there. The best ways is to fortify our body. Imagine a strong wall compared to a weak one? Which is easier to take down?
3. Louis Pasteur, the father of vaccination said on his deathbed that it is not so much about the vaccine; it is about how healthy we are inside- how healthy is our soil?
What are we doing to fortify our body?
Food- I see a difference in my two kids. My son used organic milk formula and my daughter had raw milk while they were babies. The state of their skin and health were different when they were babies.
What we eat will show up in our body. Penny found that her kids' immune system changed when they ate too much sugar.
Essential oils- One of the ways we fortify our body is incorporating essential oils into our daily life. The Bible mentioned essential oils 188 times. Although essential oils are important to Penny and I, we don't idolize essential oils. We use them as tools for better health and wellness.
Renewal of the mind- Food, nutrition, essential oils and renewing of the mind work hand in hand. Negativity and unhealthy thoughts will lead to lower frequency in our body. Our body's average frequency is about 62-68 MHz. Negative thoughts will lower the frequency by 12 MHz and as a result, lower the immune system. But prayer will increase by 16 MHz and has been scientifically proven to improve the immune system.
Esther M. Sternberg, M.D. author of The Balance Within: The Science Connecting Health and Emotions and the director of the Integrative Neural Immune Program at the National Institute of Mental Health said:
Yoga helps many people relax, while others find peace of mind through prayer, music, reading, or art. We need to find our place of peace and try to go there every day.
When we choose to renew our mind and feed it with words of encouragement and the Word of God we are choosing to increase the frequency. Human minds have a natural tendency for negative thoughts. Turn the brain around, feel and experience the difference.
Dr. Carolyn Leaf said 75% to 95% of the illnesses that plague us today are a direct result of our thought life. The average person has over 30,000 thoughts a day. She said what we think will affect us physically and emotionally.
Here are 2 major things she talked about-
1. Fear – triggers more than 1,400 known physical and chemical responses and activates more than 30 different hormones.
2. Toxic thoughts- causes illnesses such as diabetes, cancer, asthma, skin problems, allergies and more.
Pray and declare the word of God- Penny started reading the Bible after a Young Living Convention. She learned from the beginning that every answer she needs is in the Bible. Though unable to understand the Bible, she kept going for a year. Ever since then she has been transformed by the Word and prayer.
John 10:10 says:
The thief comes only to steal and kill and destroy; I have come that they may have life, and have it to the full.
The 5 powerful essential oils to have at home to help fortify your health are-
1. Oregano
2. Thyme
3. Cinnamon
4. Clove
5. Thieves
These are hot oils. For some people with sensitive skin you may have to dilute the oils with V6 or coconut oil.
Here are 6 ways to use these oils-
1. Apply on bottoms of feet.
2. Put on clothes or wear an essential oil necklace.
3. Apply on spine.
4. Put in a capsule and ingest.
5. For the diffuser.
6. In water (use glass containers).
I use Thieves on the bottom of my feet and on my children's feet. Once a week we apply Thyme, Oregano and Clove oils along the spine.
A new type of infectious disease is reported every now and then. Let's fortify our body, mind and soul – for Matthew 12:29 (ESV) says:
Or how can someone enter a strong man's house and plunder his goods, unless he first binds the strong man? Then indeed he may plunder his house.
Disclaimer: This information is not meant to diagnose, prescribe, treat or cure any illness or disease. It's strictly for informational, educational, or entertainment purposes ONLY. The products I talk about are not meant to diagnose, prescribe, treat or cure any illness or disease. Any information I give you about them is for informational or entertainment purposes only. They have not been evaluated or approved by the FDA. Please seek the qualified health professional of your choice when making health decisions for yourself, your family and your pets.
{ 0 comments }