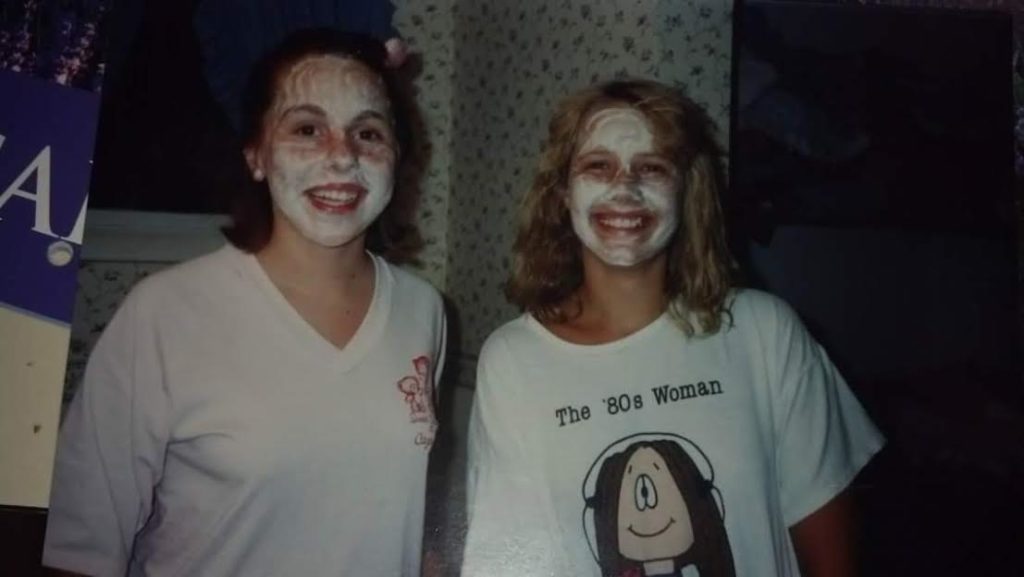 When I was 9 years old I was the biggest kid in my class. I remember the embarrassment of having to get weighed at school in the nurse's office in front of everyone. 100 lbs.  AGGHHH! Only my best friend Cindy the second biggest kid in the class and I weighed over 100 lbs.  The picture of above is us in elementary school.   Do you know that feeling of embarrassment or shame when you have gotten on those big old fashion scales and had to move the 50 lb. bar up a notch? It's awful especially as a kid.
Food as a Reward, Food for Fun, Food for Comfort
I grew up in a family where food was everything. It was how we celebrated, how we found comfort, how we entertained ourselves. Add some family dysfunction in there and it was also how we numbed the pain. As a kid every week I would get a bag of M&Ms or Skittles or whatever kind of candy I wanted as a reward for a good piano lesson. We had desserts of ice cream, cookies, or my favorite chocolate pudding with layered graham crackers almost every night.
And those goodies my mom bought never lasted long because when I got home from school I was eating them. After school my friends and I were bored so we would raid each other's houses for any chocolate, candy or cookies we could find. I remember being so full by the time dinner rolled around but I still ate my mom's delicious cooking and of course another dessert later. There were no "food rules" in my house because my parents didn't know about good nutrition; they thought they were doing well because we had a meal together most nights.
And Then Came Exercise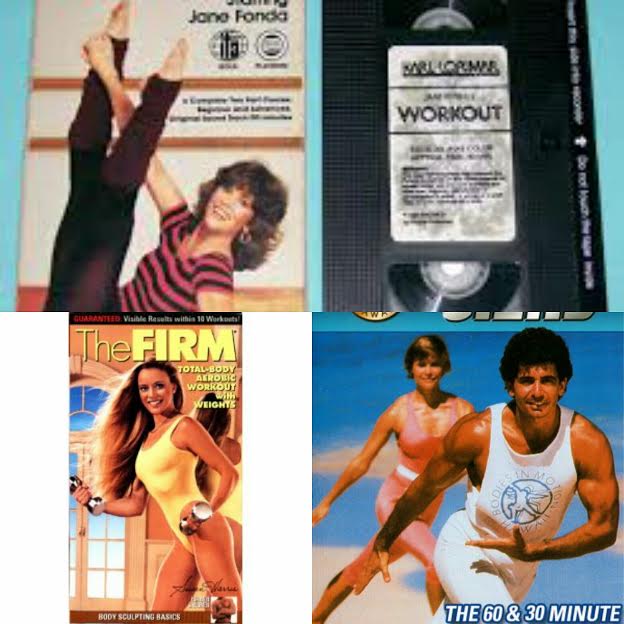 In my early teens my girlfriend Cindy and I began to do exercise videos. Our first was Jane Fonda's Workout, (you know the one with the leg warmers), then we found GILAD's 30 minute workouts. If you had cable, it was on everyday (it may still be), next there was Sweatin' to the OLDIES, and finally the intense lose 10 lbs. in 10 workouts FIRM workout series. Any of those bring back memories for you too?
"PUSH PUSH PUSH" You think we would have been twigs with all that "Sweatin' to the Oldies" we did but sadly the weight loss was minimal. See we didn't understand that we weren't suppose to eat ice cream and popcorn after a hard workout. We just didn't understand nutrition. Fast forward to our senior year in high school where our weight finally changed.
A Community Changing
This is when we joined Weight Watchers. Both our moms had been through Weight Watchers a couple times as we were growing up and lost 30 -50lbs. So they encouraged us and we joined together with some other girlfriends. Over the course of our senior year we met our Weight Watcher's group once a week where we "Weighed In" and learned a few tips.
The accountability was good, the community was great especially doing it with my best friends, but now I realize the program and nutrition coaching were not the best.  We all started walking and exercising together so the combination of the program, community and fitness got my body down to 125lbs. Of course back then in high school I didn't think that was good enough and wanted to be in the teens again… HA if I only knew what was in store for me.
"The Freshman Fifteen"
Going to college meant a cafeteria meal plan and all you can eat ice cream, weekly food and alcohol parties, lack of sleep, and stress. This is a combination for weight gain no matter how many intramural sports I played. How did you gain the Freshmen 15 lb.? I may have beat you; I had 25 lbs. of weight gain. I was in college 9 years but thankfully when I was 24 years old I started learning some key things about nutrition.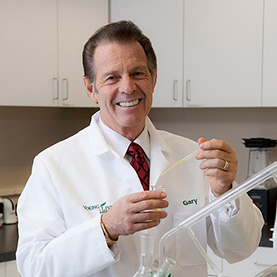 Nutrition Knowledge
I was blessed to start a home business that was all about wellness and whose founder was passionate about helping people eat better and live better. His name is D. Gary Young and to this day I have been to many top nutrition and wellness classes but nothing compares to his teachings. He helped me understand some of the faults about food and what I was eating and what it was doing to my body.
I am very grateful to have had his mentorship for the past 16 years. But although implementing what I learned made me healthier and I have lost weight multiple times since my early twenties, I have not been able to maintain lasting weight loss.  We all have our reasons why we think or feel we can't lose weight. Maybe it is a thyroid condition or disease, or maybe you feel it's your age or like me you have had multiple pregnancies. But right after my last miscarriage I made a commitment to get myself healthy and lose weight.
When I turned 40 I made a commitment that 40 would be my fabulous year! I did what I thought was my best. I exercised, I ate better, I took my supplements, I even started some intense cleansing programs but the numbers on the scale didn't move significantly. I was stuck. And then when I was working with a new team member one day I realized how much knowledge she had about nutrition, food, supplements, and fitness. She had 22 years of experience with helping people lose weight. So I hired her as my Forties and Fabulous coach.
The Help of a Coach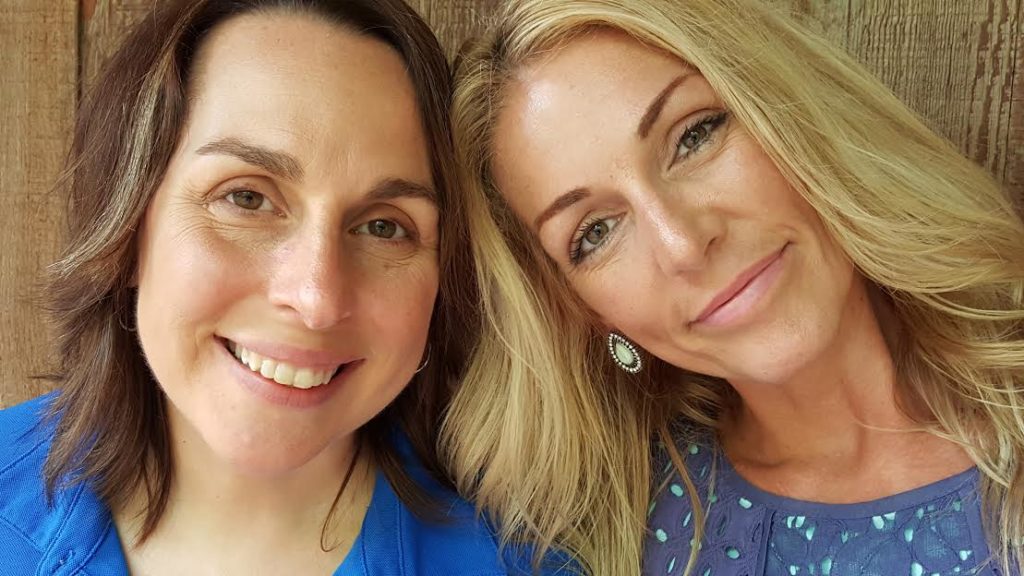 Since going through Susan's program I have lost at least 2 pant sizes and gone from a tight large shirt size to a looser medium size and not to mention 20 lbs. have left my body. I feel really good I have a lot of energy, my moods are more stable, my marriage is better (if you know what I mean), I am no longer stiff all the time, I am more productive and I feel like I am a much better mom and business owner.
But I found some holes in Susan's program that I didn't like. See my family and I like to vacation and travel for business so we are gone for a week or more every other month. So meeting with my Wellness Coach Susan wasn't always possible while I was away. Her program is based on weekly teachings that build upon each other and give you the foundation of your weight management. Being away derailed me a bit.
I told Susan she needed to have an online program and community where we had access to plug in wherever we were in the world.  She told me she would only do it if I helped and was a part of the teachings because I knew a lot about specific nutritionals and supplements that her clients needed.  So thus the 90 Day Change was born.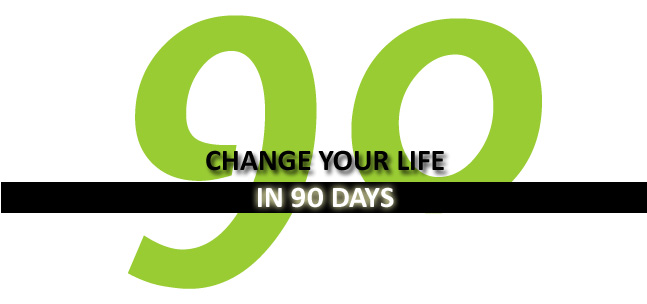 On May 15th we will host our first 90 Day Change online program and community.  Together we will work through putting the pieces of the puzzle of health, nutrition, and fitness STEP by STEP.  We will learn so many things over those 90 days including Meal Planning, Grocery Shopping, Eating Out, What Supplements you should be taking, and what fitness is right for you.
We will go deep into why we eat what we eat, how to manage cravings, and deal with food issues. We will also learn more than 7 principals or guidelines, which will lead to healthy habits and a new lifestyle. We will work as a community sharing our successes, encouraging each other, and making new friends. After the 90 day change we will not only look and feel better we will BE BETTER!
So if you are ready to put all the pieces of the puzzle together, to create positive and lasting health habits, to get into your skinny clothes, or just feel vibrant and beautiful again then join us and register today.
EARLY BIRD SPECIAL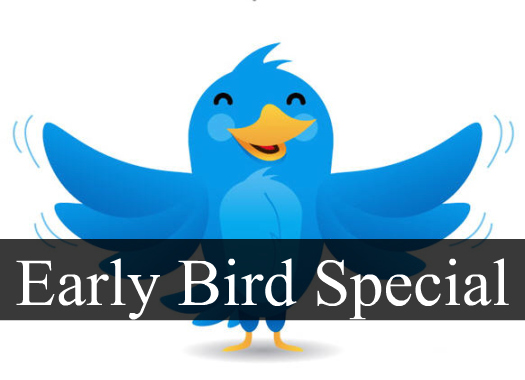 There is a $50 savings for those who are ready right now and want to get a jumpstart on their success.  Our Early Bird Special saves you $50, gives you a jumpstart on setting your mind and body up for success, as well as gives us an opportunity to get to know you better and understand your needs.
The Early Bird Special ends May 1st so don't wait if you are ready to change.
To learn more visit www.thetotalwellnessdoc.com/90daychange.
If you need to think it over, contemplate it, or just need time to decide go visit our Facebook Event Page at this link. We will be posting some short videos, and pictures of what to expect from your 90 day CHANGE.
Update on my BFF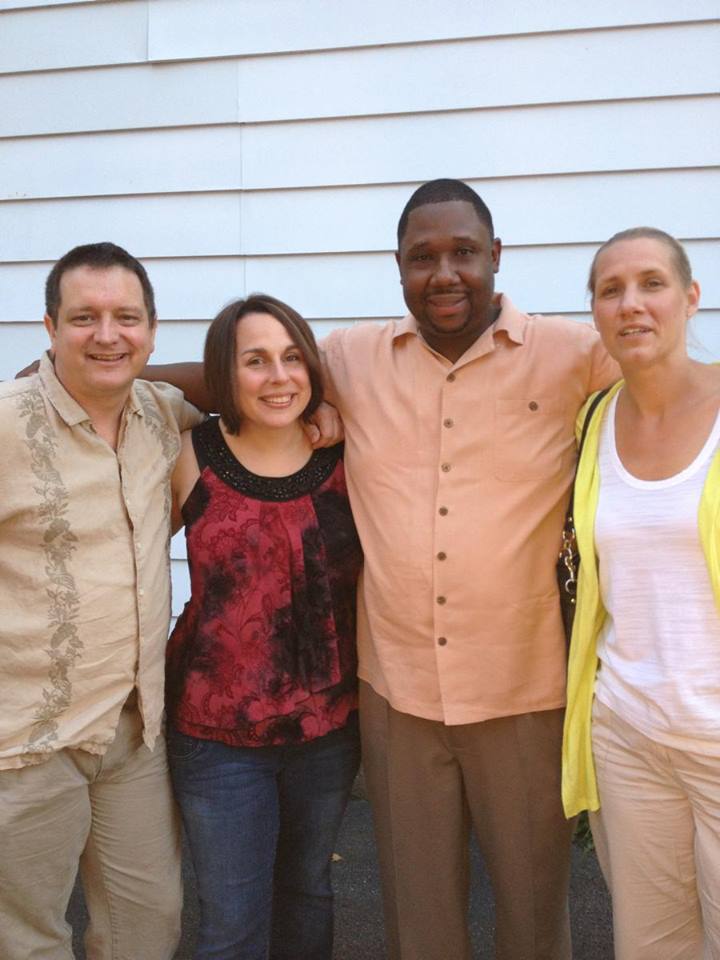 This is my husband and I and my elementary BFF Cindy and her husband at our 20 year class reunion. She had just released 50 plus lbs. and I have on my pregnancy stretchy pants jeans which I wore for 5 years until just recently I got in a "real" pair of jeans.  I look pretty good in this picture but I didn't feel good. Today I am feeling and looking better week by week with my 90 day change.
Disclaimer: This information is not meant to diagnose, prescribe, treat or cure any illness or disease. It's strictly for informational, educational, or entertainment purposes ONLY. The products I talk about are not meant to diagnose, prescribe, treat or cure any illness or disease. Any information I give you about them is for informational or entertainment purposes only. They have not been evaluated or approved by the FDA. Please seek the qualified health professional of your choice when making health decisions for yourself, your family and your pets.
{ 0 comments }