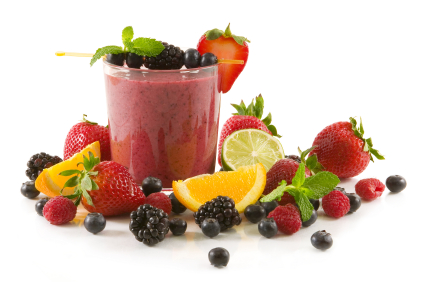 This past weekend I watched a powerful documentary on the Gerson Therapy called Dying to have Known. A big part of this Gerson Therapy, which helps restore even the most diseased body to health is JUICING. It reinvigorated me to start juicing again.  Ironically two days after watching the movie, I walked into the room where my toddler was watching Curious George on PBS. Guess what? Curious George the monkey was juicing with The Man with the Yellow Hat. Even monkeys think juicing is important. Too funny I think it was a sign.
The episode showed how George and The Man with the Yellow Hat were hooked on Juicy Jay's special blended juice and bought the juicer to create their own drink at home. As with all Curious George stories, he always ends up learning something new and benefits from the lesson. George recreated, experimented and messed up but ultimately learned to create a juice that impresses Juicy Jay. Here is the link for parents or grandparents with kids who like Curious George.
Are you a juicer? Before I continue on with the benefits of juicing, here are two articles that I've written about juicing:
Juice Detox Fast
7 Days of Juice Fasting – Almost
Juicing is not easy. I've experienced so many benefits of juicing and here are five benefits:
One: Fortifying and healing the body
Interestingly my last two pregnancies happened (I conceived) while I was juicing daily. It was important to re-fortify and heal my body especially after a miscarriage.
Two: Help ward off dis-ease
In reality, fast and processed foods are the foods that most Americans are consuming each day. Healthy eating takes effort and planning. Most of us grew up eating less than the recommended amount of vegetables and fruits per day. Juicing will allow us to consume a huge selection of fruits and vegetables per day.
Imagine if we did just a juice a day with raw, unprocessed fruits and vegetables! Our body will absorb all the nutrients and gain health benefits from the fruits and vegetables. What an incredible way to ward off dis-ease with natural wholesome foods.
Three: Provide high quality nutrition
Raw fruits and vegetables provide minerals, vitamins, phytonutrients, antioxidants and other high quality nutrition for our body. Some nutrients and important enzymes found in vegetables may be destroyed when cooked.
Freshly pressed juice from raw vegetables and fruits provide the most high quality nutrition according to Gerson.org. According to Gerson.org:
By juicing, patients can take in the nutrients and enzymes from nearly 15 pounds of produce every day, in a manner that is easy to digest and absorb.
The Gerson Therapy uses organic, vegetarian diet, raw juices, coffee enemas and natural supplements to help the body heal itself. This therapy was started by Dr. Max Gerson in the 1930s initially to help with his migraines. He eventually developed it into treating degenerative diseases such as skin tuberculosis, diabetes and cancer.
You can read more by visiting Gerson.org.
Four: Lose some weight
Fruits and vegetables contain low calories and fats and have a good source of dietary fiber. Losing weight takes more than consuming a certain type of food or exercise. It involves your total being- your body, mind and soul.
Juicing may help with weight loss because you will be consuming fewer calories and vegetables can help balance our body's pH. Alkaline foods will help release acidity and fat cells in our body.
Five: Gain more energy and look younger
My accountant, Joanne Del Bolso is living proof of a person who benefited from juicing. She looked radiant and younger when I saw her after tax season when most accountants were either drained or burned out.
Juicing helps to flush out toxins. This will lead to an increase of energy, clearer mind and more radiant skin.
About fruits and vegetables:
Before you start using, you need to have a plan of action, the right equipment and a shopping list. Remember not all fruits and vegetables are created equal.
The Environmental Working Group (EWG) organization releases a yearly list called the Dirty Dozen. The Shopper's Guide to Pesticides in Produce will help you determine which fruits and vegetables to avoid or buy organic.
There is no denying that a diet rich in fruits and vegetables brings benefits to our health but we need to be informed about pesticide exposure as well. Here is a link to the EWG website and list of Dirty Dozen Plus and Clean Fifteen.
About cleaning the juicer:
Some of us may hate the cleaning up processes after drinking the juice. Whatever type of juicer you use, it is important to note that proper cleaning is essential to good health. Clean your juicer immediately after use to prevent contamination or bacteria build up.
What is your plan of action?
There are many ways to juicing. Consult with your health care professional (a professional knowledgeable about nutrition and juicing) and decide on what type of juicing is beneficial to your health.
We would like to know what you did and the results you get. Please leave us a comment below.
Disclaimer: This information is not meant to diagnose, prescribe, treat or cure any illness or disease. It's strictly for informational, educational, or entertainment purposes ONLY. The products I talk about are not meant to diagnose, prescribe, treat or cure any illness or disease. Any information I give you about them is for informational or entertainment purposes only. They have not been evaluated or approved by the FDA. Please seek the qualified health professional of your choice when making health decisions for yourself, your family and your pets.