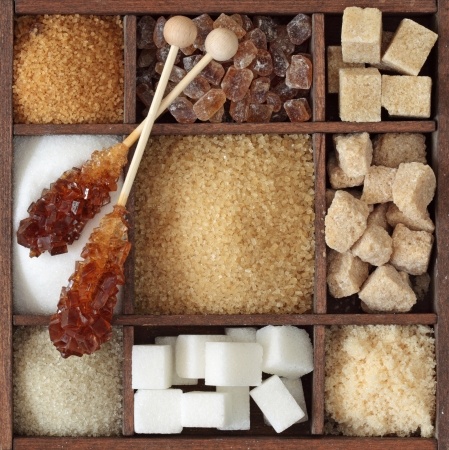 "Sweet Poison: How sugar, not cocaine, is one of the most additive and dangerous substances" was the headline of a recent article written by Dr. Mark Hyman in the NY Daily News.
He said,
• Americans consume an average of 152 pounds of sugar each year
• Sugar is the new tobacco and secret destroyer
• Sugar is 8 times more additive than cocaine
• Sugar keeps you hungry
• Sugar makes you store belly fat
• Most are hidden in processed foods and sweetened drinks
Read more here.
To prove his point on hidden sugar, I gathered a few items and looked at the sugar content. Here are a few I found:
Pasta sauce 13g of sugar in 1/2cup
Nutella 21g of sugar in 2 tablespoon
Craisins (dried canberries) 29g of sugar in ¼ cup
Kefir 20g of sugar in 1 cup
20 oz. Mountain Dew 77 g of sugar
7 Eleven 64 oz. Double Gulp Coke 186g of sugar
4 Oreos 14 g of sugar
1 regular size Snickers bar 30g of sugar
1 frosted cherry pop tart 34g of sugar
1 bowl of Capn Crunch Cereal 24g of sugar
1 grande Starbucks Mocha Frappucino with whipped cream 47 g of sugar
McDonald's medium size Chocolate Shake 111g of sugar
½ cup of Haagen-Dazs Raspberry Sorbet 27g of sugar
Raw almond butter 2g of sugar in 2 tablespoon (lowest here)
And the list continues…
Have you read your food labels lately?
Some of these labels require you to have a chemistry degree to understand. One important fact to remember is, for example Nutella is sold as "hazelnut spread with skim milk and cocoa." When you take a closer look at the ingredients, the first two items listed were sugar and palm oil.
What can you understand by the order of ingredients?
Ingredients are listed in order of quantity, according to Penny Kris-Etherton PhD, a professor of nutrition at Pennsylvania State University's Department of Nutritional Sciences and an American Heart Association spokeswoman. So the jar of Nutella has more sugar and palm oil and not hazelnut and cocoa.
Reading further…
Sugar comes under several names. Names for added sugars on labels include:
• Brown sugar
• Corn sweetener
• Corn syrup
• Fruit juice concentrates
• High-fructose corn syrup
• Honey
• Invert sugar
• Malt sugar
• Molasses
• Raw sugar
• Sugar
• Sugar molecules ending in "ose" (dextrose, fructose, glucose, lactose, maltose, sucrose)
• Syrup
Source: Heart.org
Can you track your daily sugar intake?
It requires a lot of work if we are consuming processed foods, fast foods, drinks and other store packaged foods.
How about artificial sweeteners?
Want to avoid too much sugar or calories? We are being marketed to drink diet soda/drink and eat sugar-free or products with artificial sweeteners. These zero calories and no sugar products sound like a no-brainer. But are they?
Aspartame, saccharin, sucralose, acesulfame potassium (acesulfame K) and neotame are five approved sweeteners in America. Recently I discovered a graphic posted by stepintomygreenworld.com on "The Truth About Splenda." Splenda is a type of sucralose that will
• Increase the pH level in our body
• Slow down digestion
• Kill good bacteria in the intestines
• Lead to liver and kidney lesions
• Stimulate fat storage and may contribute to weight gain and cause the desire for more calories
• Increase carbohydrate cravings
Despite the negative effects, worldwide usage of artificial sugar is increasing every year. Food Product Design says it will increase to $3 billion by 2017 from $2 billion in 2012.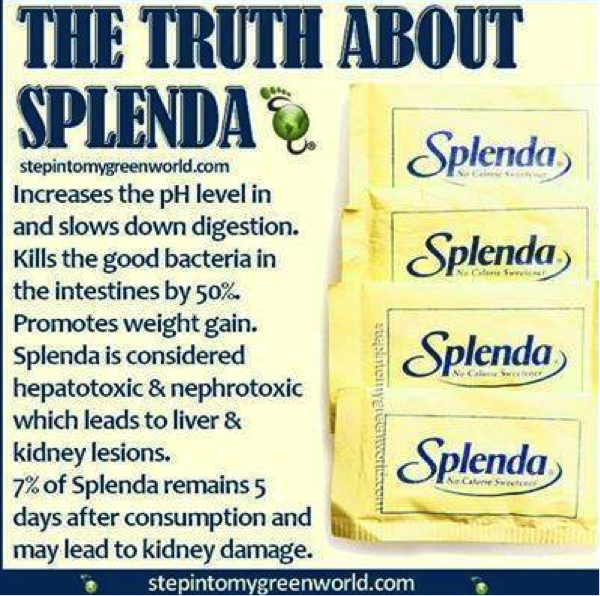 What are the dangers of eating too much sugar?
1. Cavities
2. Insatiable hunger
3. Weight gain
4. Insulin resistance
5. Diabetes
6. Obesity
7. Liver Failure
8. Pancreatic cancer
9. Kidney disease
10. High blood pressure (hypertension)
11. Heart disease and stroke
12. Addiction (food addiction)
13. Cognitive decline
14. Nutritional deficiencies
15. Gout
16. Compromised immune system
17. Lower quality sleep
18. Brain fog
19. Aging
20. Cancer
Source: Business Insider
Watch this video now from CBS 60 minutes on "Is sugar toxic?"
Are there ways to curb sugar cravings?
I've written an article on Six Natural Remedies to Stop Sugar Cravings.
Here are 2 testimonials from essential oil users:
Donna G from CO on Ocotea and sugar cravings:
Dark chocolate had become a regular snack for me everyday, even though it was just a bite or two. I know sugar can inhibit your immune system so I wanted to change this habit.
I was able to sample ocotea and loved its gentle cinnamon flavor. I started taking just one drop orally per day. Within 1 week, I realized that I had skipped my chocolate several afternoons and it didn't appeal to me. Now, if I eat sugar, it is because I decide to, not that I am craving it.
I love the taste of this oil!
Fran G from PA on oils for appetite or craving suppressant:
I wanted to help my Mom out with her blood sugar levels as she felt she couldn't afford to buy the NingXia Red each month, so I put together a recommended formula for control of blood sugar which is equal parts of:
Thieves

Fennel

Dill

Coriander
Well, I really liked the aroma so much I decided to where it like a perfume and dabbed some on my wrists. I began to notice that I wasn't constantly running to the refrigerator anymore and once when I did get a craving I was heading out to Mr. Z's (a supermarket) to grab some sweets and had dabbed some on just before I went out. I drove the 3 miles to the store only to get there and wander the aisles. I came back home empty handed. The cravings were gone. I had no desire to get anything unhealthy.
I only have one concern and that is I may not be eating enough altogether as I have no particular need to eat when I use this mix. I never noticed it with fennel alone. At least I can focus on eating to live rather than living to eat. Hope this helps.
If you are 100% committed to curb your sugar cravings – and you want to get help, then I highly recommend doing the first step, that is>> Get our articles with wellness tips and natural remedies sent to your inbox twice a week. Sign up here (it's free)!
Disclaimer: This information is not meant to diagnose, prescribe, treat or cure any illness or disease. It's strictly for informational, educational, or entertainment purposes ONLY. The products I talk about are not meant to diagnose, prescribe, treat or cure any illness or disease. Any information I give you about them is for informational or entertainment purposes only. They have not been evaluated or approved by the FDA. Please seek the qualified health professional of your choice when making health decisions for yourself, your family and your pets.