What does a spiritual detox mean to you? Short for "detoxification," detox means to rid something of toxic or unhealthy substances. Through my years as a wellness practitioner, I've seen how spiritual wellness encompasses our:
Physical health

Relational health

Emotional health

Financial health 
Could your struggle be spiritual?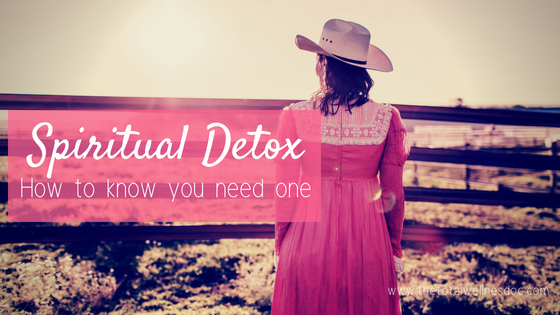 Whether you believe in God or not, you're a spiritual being. So if someone is struggling in at least one of those four areas, we could assume there's a spiritual connection, right?   
For the past 10 years, I would have mostly agreed with this — but I couldn't put my finger on why our spiritual wellness affects our relationships, attitudes, behaviors, patterns — even our physical health. 
Then God led me to the SOLUTIONS for an Abundant Life study! And WOW: It's the 12th week of our 13-week journey online. In such a short time, this amazing, brave group has experienced:
Healed wounds,

Broken addictions,

Restored relationships,

Spiritual detoxing of shame, guilt…



…and so much more.
Want less stress or more inner peace?
My own Solutions journey has been amazing, but you have to hear how some of my friends and colleagues are experiencing total wellness in new ways, by spiritually DETOXYING their lives: 
Lisa's Freedom from Shame
"Prior to Solutions for an Abundant Life, I always felt not good enough. Those feeling controlled me. I was always striving to be good enough and measure up. I received healing from shame and received the truth of who I am and who God created me to be. I have come into a deep understanding of His acceptance for me." –Lisa C.
Melinda's Restored Joy
"Prior to Solutions for an Abundant Life, I didn't know where to start. I just knew a lot of things were wrong and I had no idea the root causes, how I got there, or how to fix it. For me, Solutions has been a toolbox that really works to restore order, peace, healing, joy, and so much more. Thank God!!" –Melinda B.
Kimberly's Decoded Dating Dilemmas
"Before Solutions for an Abundant Life, I was stuck in a cycle. I am single and have been in one failed relationship after another wondering what the heck I am doing wrong…I was at the point where I knew it was me but I was stuck and didn't know how to fix it. I have been to several counselors throughout my life and NOTHING has healed me like this course has! I finally have some tools that work and I am so grateful." –Kimberly F.
How to Know if You Need a Spiritual Detox
Maybe you're already feeling as free as you want to be from your past mistakes or heartbreaks. Maybe you already understand the real reasons you react the way you react to certain people or circumstances…
…but if not—if you want to feel:

refreshed

instead of stressed,

powerful

instead of powerless,

confident

instead of insecure…
…then your next step is to secure your spot in the next live Solutions class & community now, before space fills up or doors close: