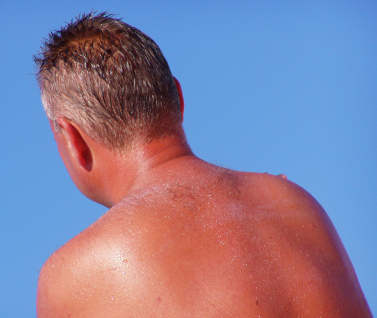 As a Chiropractor who sees a lot of backs we have had several cases of individuals who have had the signs of skin cancer on their back but did not know it. Because some individuals live alone and do not get regular dermatological check ups we may be there only set of eyes. We encourage everyone to get or do a thorough examination for skin cancers twice a year. If you have the risk factors for skin cancer or have had cancers in the past please seek proper dermatological attention. The following information is not meant to diagnose or prescribe but rather for education purposes only.
Enjoy the short video and scroll down to learn more about skin cancer.
I encourage everyone to do a google search a look up the images of what Melanoma and other skin cancers look like. Keep these in a folder on your computer or print them out so you can stay aware and use these photos to do your own periodic body observations.
The following is from the American Cancer Society.
Skin Cancer
Skin cancer is the most common of all cancers. It accounts for nearly half of all cancers in the United States. More than 2 million cases of non-melanoma skin cancer are found in this country each year. Melanoma, the most serious type of skin cancer, will account for about 68,130 cases of skin cancer in 2010.
Most non-melanoma skin cancers develop on sun-exposed areas of the body, like the face, ear, neck, lips, and the backs of the hands. Depending on the type, they can be fast or slow growing, but they rarely spread to other parts of the body.
Basal cell or squamous cell cancers are highly likely to be cured if detected and treated early. Melanoma, the most serious type of skin cancer, will account for about 68,130 cases of skin cancer in 2010 and most (about 8,700) of the 11,790 deaths due to skin cancer each year.
The overall 5-year survival rate for melanoma is 91%. For localized melanoma, the 5-year survival rate is 98%; survival rates for regional and distant stage diseases are 62% and 15%, respectively. About 84% of melanomas are diagnosed at a localized stage.
What are the signs and symptoms of skin cancer?
Skin cancer can be found early, and both doctors and patients play important roles in finding skin cancer. If you have any of the following symptoms, tell your doctor.
• Any change on the skin, especially in the size or color of a mole or other darkly pigmented growth or spot, or a new growth
• Scaliness, oozing, bleeding, or change in the appearance of a bump or nodule
• The spread of pigmentation beyond its border such as dark coloring that spreads past the edge of a mole or mark
• A change in sensation, itchiness, tenderness, or pain
What are the risk factors for skin cancer?
Risk factors for non-melanoma and melanoma skin cancers include:
• Unprotected and/or excessive exposure to ultraviolet (UV) radiation
• Fair complexion
• Occupational exposures to coal tar, pitch, creosote, arsenic compounds, or radium
• Family history
• Multiple or atypical moles
• Severe sunburns as a child
Skin Cancer is scary but the rate of survival if detected early is more than 90%.
We value your comments. Please comment below.
Disclaimer: This information is not meant to diagnose, prescribe, treat or cure any illness or disease. It's strictly for informational, educational, or entertainment purposes ONLY. The products I talk about are not meant to diagnose, prescribe, treat or cure any illness or disease. Any information I give you about them is for informational or entertainment purposes only. They have not been evaluated or approved by the FDA. Please seek the qualified health professional of your choice when making health decisions for yourself, your family and your pets.