Yes I admit. I am in love with my Instant Pot. I believe time is our most valuable resource and using the IP is saving time and literally "making money for my family". Seriously if you give a value to your time say $20 an hour no matter if you work out of the home, from home or are a stay at home mom your time is valuable. Saving 30 minutes 3 times a week is like making $30 for your family. That time can now be spent doing more valuable things spending QT with the kids or your spouse, working out, learning or working in your Home business and turning that time into CASH.
Buffalo Chicken Sweet Potatoes in the Instant Pot  
So here is a recipe I found that was a winner ! http://predominantlypaleo.com/instant-pot-buffalo-chicken-sweet-potatoes/  Here is her beautiful picture of Jennifer Robins Creation.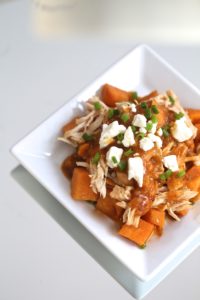 And here is my creation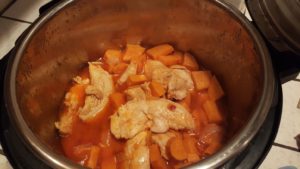 Don't let the looks fool you.  IT WAS DELICIOUS! I modified and doubled the paleo recipe because of the ingredients I had on hand and because I like leftovers for future time savings. I used ¾ of a big onion diced. We used 2.5 lbs of chicken strips not frozen and 2 big sweet potatoes. (I wished I used another ½ of Sweet Potato. The flavors are awesome. We also used Frank's Red Hot Wing Sauce because that is what we had in the fridge. We used Coconut oil and Ghee and again if you don't have Ghee use your Coconut oil or I guess you could use Butter. We ate it with Challah bread on Friday night but I would suggest making a big pot of rice or quinoa in the instant pot for the week and use some of that to make the meal go farther and help cool the spiciness. We cooked it for 18 minutes and it was perfect but I think I could have done 17 minutes and kept the sweet potatoes a little more firm. Looks like Jennifer added  some scallions and goat cheese to the top again that might be great if you have them on hand. I don't suggest adding extra cost if you don't need to.
Buffalo Chicken Sweet Potatoes in the Instant Pot
Total time < 30 minutes –  Total Cost  < $15    but includes 2 meals  Dinner and Lunch for 2 adults and 2 kids = < $ 2 per serving
Ingredients
2.5 lb chicken breast cut into filet size
¾ of an entire big onion
1 tbsp Coconut to saute onion
2 tbsp Coconut oil
4 tbsp Ghee
6 TBSP Frank's Red Hot Wing Sauce
2 ½ big Sweet Potatoes or Yams
1 tsp Garlic Salt
¼ tsp Pepper
Go to http://predominantlypaleo.com/instant-pot-buffalo-chicken-sweet-potatoes/ to find the directions specifically. Again I think with the filets you can use the Poultry setting at 17 minutes. I did add 2 tbsp of water too.
The next day we used the leftovers to make Patias…  That is a made up word my daughter calls anything in a wrap.  Simply heat your tortillas on one side, flip sprinkle some favorite cheese (ours is raw cheddar or Tillamook cheese which I think you can only get here on the West Coast)  and add some of the chicken sweet potato and juice.  Be sure to eat over your plate because the juice can squirt out.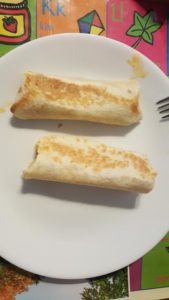 Let me know how this Winner Winner Chicken Dinner turns out of you!