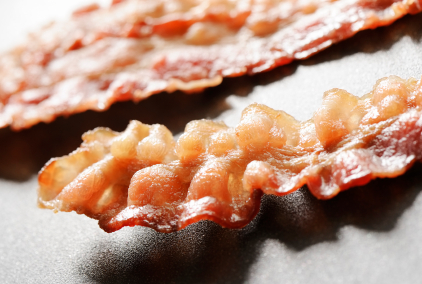 Do you eat breakfast? Or do you skip this very important meal? I am meeting more and more people who say to me, "I can't eat breakfast.", "I am not hungry for breakfast.", "It makes me sick to eat in the morning.". YIKES! These individuals don't have a clue what they are doing to their bodies. Skipping breakfast is a BIG NO NO. The body needs fuel not starvation and the quickest way to gain weight is to go long periods of time without eating. Did you know that the sumo wrestlers gain all their weight by actually not eating all day and then binge eating one meal? YIKES!
Well I have several favorites when it comes to breakfast. Our family indulges in 1-2 times a month in bacon, fried eggs and grits. It is so delicious especially when you break the yokes and mix your eggs with the grits and then break up your bacon in the mix. It is a delicious blend of salty creamy goodness.  (Can you tell I am hungry?)
Traditional bacon gives me a headache and I am not the only one. Many people suffer from migraines because of all the MSG, monosodium glutamate in traditional bacon. Some know this is the cause and others just think they are getting a headache. When we found this Applegate Sunday Bacon with no MSG, and made without antibiotics or other junk I was very happy and lo and behold NO HEADACHES after eating this bacon. I had some friends and clients test it out too and they agree they can eat this bacon when they can't eat traditional bacon.
Although you will spend more on this bacon and there is less in each package than normal bacon, it really is worth it.  It's delicious! The smaller portion will be better for your waistline too.
In this video I will give you three quick recipes you can make with just 1 package of bacon. Also check your local wholesale grocery stores. Our local BJ's here in Central NY has a 3 pack of Applegate Bacon for less than $10 which saves you about 4 dollars off of what you would pay if you bought them individually. I know some of our readers are struggling financially and wondering how they can eat healthily and buy organic and cleaner food that is more costly then the conventional foods. In this video I will show you how to STRETCH your BACON BUCKS. LOL!
Share your favorite bacon recipes with us in the comment section below.
For your Total Wellness,
Dr Mary Starr Carter
the Total Wellness Doc and Mom
Disclaimer: This information is not meant to diagnose, prescribe, treat or cure any illness or disease. It's strictly for informational, educational, or entertainment purposes ONLY. The products I talk about are not meant to diagnose, prescribe, treat or cure any illness or disease. Any information I give you about them is for informational or entertainment purposes only. They have not been evaluated or approved by the FDA. Please seek the qualified health professional of your choice when making health decisions for yourself, your family and your pets.