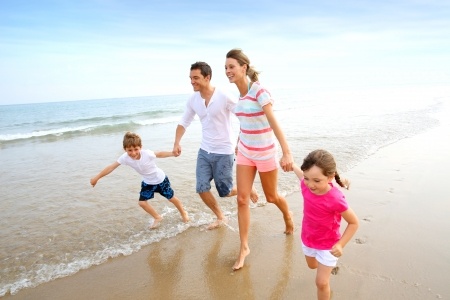 How to Find the Best Deals for Summer Vacations
By: Claudia Looi
"Lost $416!" Monitoring air ticket prices is almost like the stock market. I don't get it right all the time when it comes to purchasing airline tickets. Have you? My husband and daughter said, "Just go make more money and recover from the losses!"
You see I had been looking at ways to get the cheapest and best airfares to St. Petersburg Russia with a stopover at a European city. Icelandair came into the radar during that research with a price of $574 per person. Not bad because Lufthansa and some of the American carriers were offering over $1,000 without any free stopovers.
On a busy content writing day while doing research and writing for a client on Tips to Buying One Way Tickets to Europe the price on Icelandair was $470 from Boston to St. Petersburg. That was an incredible deal and I thought we might have to travel from New York City to Boston to save a few dollars. Curious, I checked for pricing from New York City and it was $470 too.
I patted myself on the back and said good job. The air miles we accumulated will cover three tickets instead of two. Which means for a family of four we would pay $470 for airfares from New York City to St. Petersburg Russia with a stopover in Iceland. St. Petersburg is our final destination in Europe. We will start our overland tour from Russia through Mongolia and China.
Did I take advantage of the price? Unfortunately no. Why? I was procrastinating and ended with a $574 ticket per person two weeks later.
If you are like me – you love sweet deals for leisure and pleasure. The question is where and how to find the best deals for summer vacations. Here are 4 ways that helped me save money:
One: Credit cards reward points
Credit cards can be your tool to saving money if you pay off every month without owing a penny. When the kids were little we had a ToysRUs credit card for free toys. Now we use cards that offer "no hassle miles" rewards.
Capital One Venture One card has no annual fee; no foreign transaction fees and you earn 1 ½ miles per dollar on every purchase. You can use the points to fly with any airline, stay at any hotel, any time. When you open a new account you immediately earn 20,000 bonus miles. Check it out here.
The Business Gold Card from American Express OPEN offers up to 75,000 Membership Rewards points redeemable for up to $750 in gift cards at select stores after you spend $2,000 on eligible purchases within the first three months of card membership.
You get 3 points on airfare purchased directly from airlines, 2 points on purchase for advertising in select media, shipping, gas and more and 1 point on other purchases. Points can be used for flights, hotels and vacation packages through americanexpress.com/travel and there are no blackout dates or seat restrictions.
There is an annual fee after the first year. American Express has a variety of credit cards. Find out more here.
We have used airline miles from American carriers for air tickets and hotels. And credit card reward points for airline tickets. Do your homework and find out which card suits your needs.
Two: Sign up for alerts and newsletters
I subscribe to a few alerts and newsletters from various travel websites. Travelzoo.com, airfarewatchdog.com and booking.com are three of my favorites.
For example, airfarewatchdog.com sent me an email this week with a list of best airfare deals from New York City. I've been thinking about going to Bermuda and the fares have been favorable for the last few weeks. Look at this: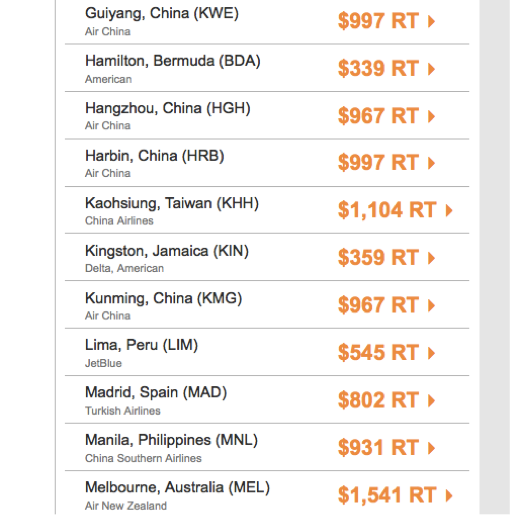 Hamilton, Bermuda on American Airlines is $339 per person round trip. That is an amazing deal. If you are thinking of going to Manila Philippines, it is $931 per person on China Southern Airlines.
Travelzoo.com sends me weekly emails on the best cruise, flight, show, hotel, dining, and tour deals from different travel companies to anywhere around the world. This week I received a few amazing deals.
This looks like a really sweet deal for someone living in Vancouver or Northwest United States (taken from Travelzoo.com):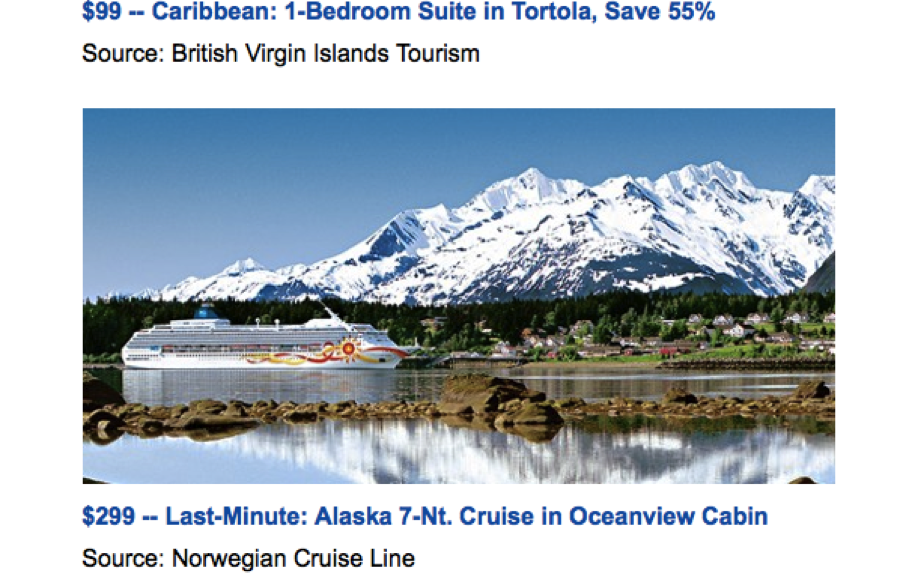 Norwegian Cruise Line's last-minute 7 nights Alaska cruise offered by cruise.com. We love Norwegian and I would grab this deal immediately if I had no prior tour arrangements. Imagine $299 per person for an oceanview cabin? I'm sure you have seen deals like this but when you get to the site, they are usually higher than advertised!
I've used and subscribed to Travelzoo.com since their first email over a decade ago, and their deals are genuine. Since this is a last minute deal, it means you have to be flexible, act fast and are able to travel on the dates given.
To prove this is genuine here is a screenshot of the deal from cruise.com. It was available at the time of writing: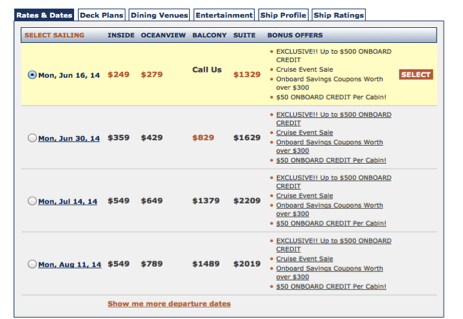 The Norwegian Sun takes you from Whittier Alaska to Juneau, Sawyer Glacier, Skagway, Ketchikan and Vancouver.
If you don't like cruises, in the same email was a 4 nights stay at the Jewel Dunn's River Beach Resort and Spa with round trip airfare for $629 per person. You save 65% in this all-inclusive seaside resort in Jamaica. Yes! Jamaica and all inclusive means all meals are included. (From CheapCaribbean.com)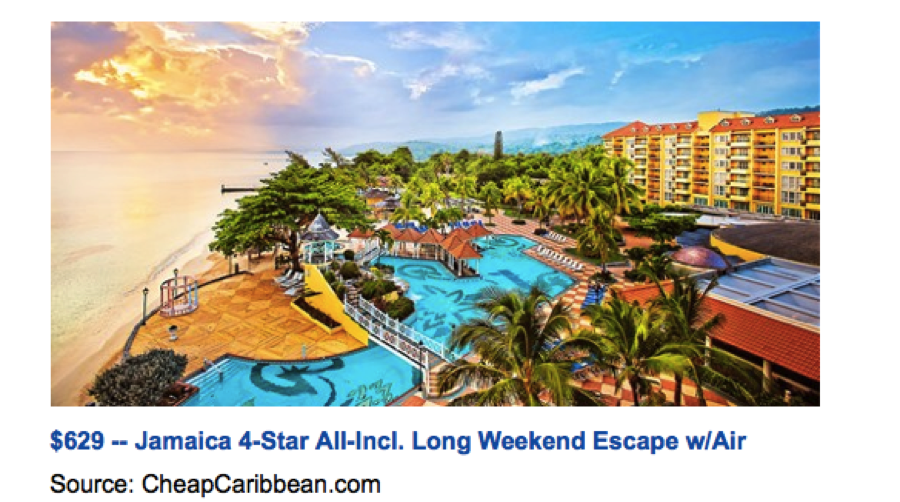 Three: Drive or fly
For those who prefer to travel locally there are ways to find out if driving or flying is cheaper. All you need is the right tool. TravelMath.com's cost to drive or fly tool will show you how. For families in Washington DC wanting a summer vacation at a Miami beach or a Miami family wanting to visit Washington DC, all you need is to type in these cities here.
You will get a fly or drive score depending on the number of people in your family. A lower score means it is cheaper. This is an example for a family of four from Washington DC to Miami: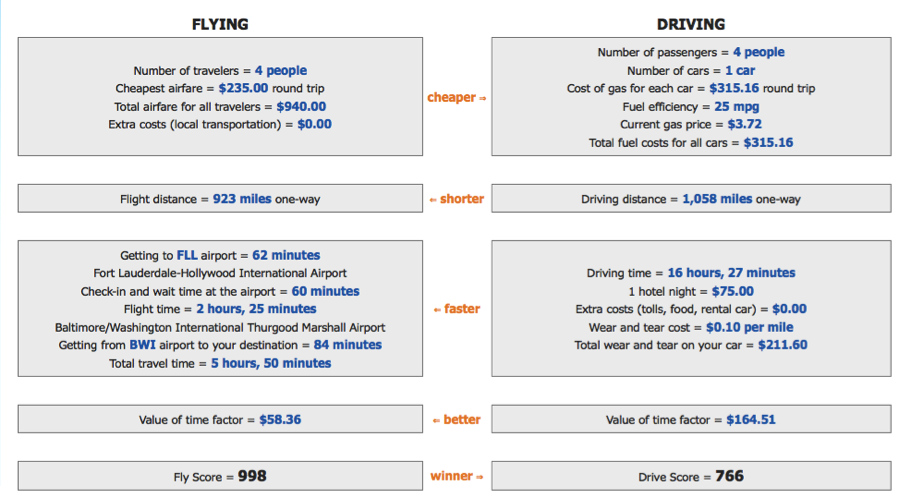 This score takes into consideration time spent on the road, wear and tear of your vehicle, fuel efficiency and more.
The score changes if there are only three people in the family. It is almost the same price for driving and flying.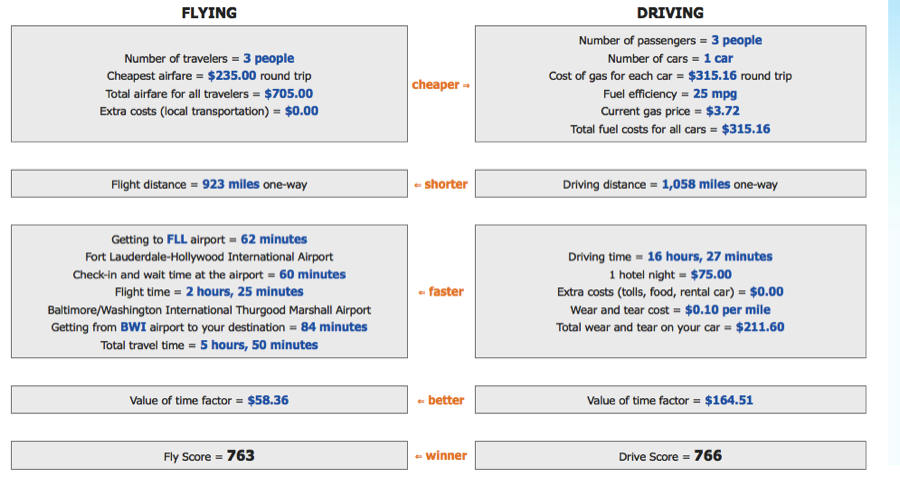 Four: Hotel or apartment rentals
I love hotels but when it comes to saving money for a large family, renting an apartment is the way to go. Prior to traveling to South America, I had only stayed in hotels while traveling. I remember needing to get two rooms for our summer vacation in London when the kids were 11 and 8 in 2006.
Now with peer-to-peer rentals and the share economy concept, vacationers are able to save more money on accommodation. You can check out airbnb.com, booking.com and nyhabitat.com. Airbnb.com is our favorite. We have used all three while traveling in South America and now in New York City.
NYhabitat.com caters to New York City, Paris and London apartments only. Bookings.com has a variety of hotels, apartments and bed and breakfast places around the world. AirBnB.com is available worldwide and has shared rooms, private rooms or the entire place for rental.
We have rented a houseboat in Brooklyn through AirBnB.com for two weeks. That was one of the greatest experiences in New York City. You can read it here. For a little over $1600 our family of four stayed for 13 nights in the houseboat. That is around $400 per person for 2 weeks or $31 per night in New York City!
While writing this article, I found an apartment at the Miami Beach for eight nights that accommodates 8 with free parking, a fully equipped kitchen, free WiFi, washer and dryer, air conditioning and more for $1672 through AirBnB.com.
Multi-generational families, friends or business associates can get together for eight nights at the beach for $209 per person ($26 per night per person). If you cook all your meals in the apartment you'll save more.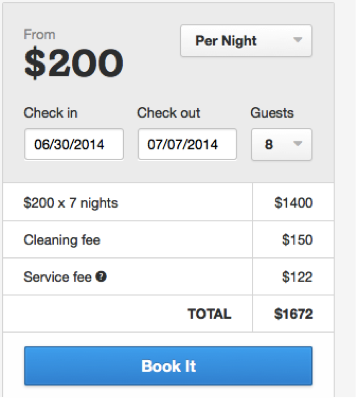 Screenshot taken from AirBnB.com.
These are just some of the ways I get my savings for summer vacations and traveling around the world. I have a lot more!
Think you can't take a summer vacation? With research, flexibility and an open mind, you may just find the best deal and enjoy the best summer vacation the whole family will talk about in years to come. Don't forget to read our eBook on Your Guide to Staying Healthy While Traveling with Essential Oils (currently in the eBook bundle sale- 4 eBooks for $9.97)
And that's the wonderful thing about family travel: it provides you with experiences that will remain locked forever in the scar tissue of your mind.  ~Dave Barry
Note: None of the above links are affiliate links, which means we are not compensated for recommending these websites and their services.
Claudia Looi is a content creator and freelance writer, world traveler, mom of two teens and wife of a traveling nurse. She and her husband sold almost everything, and have been traveling and embracing a 'nomadic' lifestyle since February 2013. You can find her at http://travelwritingpro.com/
Disclaimer: This information is not meant to diagnose, prescribe, treat or cure any illness or disease. It's strictly for informational, educational, or entertainment purposes ONLY. The products I talk about are not meant to diagnose, prescribe, treat or cure any illness or disease. Any information I give you about them is for informational or entertainment purposes only. They have not been evaluated or approved by the FDA. Please seek the qualified health professional of your choice when making health decisions for yourself, your family and your pets.