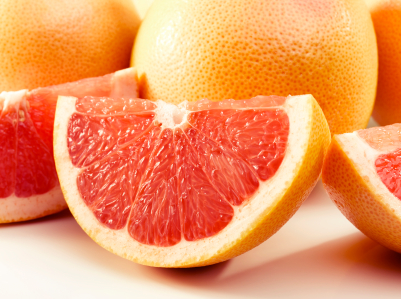 "Why is this happening to me?" You secretly dwell in self-pity and sadness alone. You heard all the positive talk about taking control, yet your battle seems to get harder. During winter months…your enemies get worst…they make you blue, grouchy and sometimes just plain bored.
Could it be you are suffering from chronic low-grade depression? These symptoms seem to hit women hard and can worsen during certain times of the month.
But don't overlook the men in our lives. They might be suffering too. Their frustrations and moodiness may be due to low-grade depression and self-doubt.
Here is what Brent said:
About a month ago we started our annual 'wellness program' at work. I read in the Essential Oil Desk Reference about grapefruit oil helping with depression, and being a fat dissolving oil. I try to have a bottle of water each day that has 4 – 6 drops of grapefruit oil in it. I have been in a much better mood and with some quality time spent on the treadmill. I have had some weight loss as well. I really think the grapefruit oil has helped with keeping my 'down days' in check. Just remember to shake the bottle to keep it mixed. It tastes great!
Today, we want to give you 10 reasons why you should have grapefruit essential oil in your first aid kit:
#ONE: Overcome and control low-grade depression
Diffusing grapefruit oil and adding a few drops to your drinking water can help uplift your mind. It also energizers your body and gives mental alertness.
Fern R. from Canada has this to say about having more energy and overcoming low-grade depression with essential oils:
More energy is what the Young Living Essential oils and the Young Living supplements are giving me. I rub some under my feet morning and night; I put some behind my ears, on my wrists, on my temples, wherever aches and pains appear. I inhale them; I drink distilled water spiced with peppermint, clove, lemon, grapefruit or other oils. I put some drops in organic honey and eat them. Even if I'm 65 and not in the best of health (I have MS), I have more get-up-and-go than many people a lot younger. Why? Because I live surrounded by these therapeutic-grade essential oils! Thank you so much, Gary Young, for bringing these to the world!
#TWO: Weight release and digestion problems
Enough has been said about weight loss and many of us have the resolutions to lose some. Now remember, there are no quick fixes. It really is about changing our habits.
My testimony about grapefruit oil:
I use grapefruit when I have eaten high salt foods that make me puffy and bloated feeling in the morning.  I put 3-4 drops in 32 oz. of water and drink it in the AM. The grapefruit acts like a natural diuretic. I lose the extra water weight within 6-12 hours.
Kevin S. from Fulton NY used a few drops of grapefruit in his ice tea every day.  After 2 weeks he had lost 5 lbs. and the only difference in his life was the Grapefruit.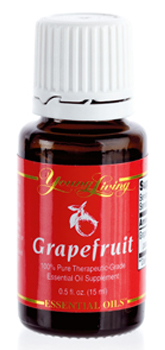 #THREE: Helps with skin problems
Grapefruit essential oil is known to help acne, psoriasis and oily skin.
Mary S. from Iowa:
I had a case of psoriasis on my elbow and it was getting quite bad & painful, and I finally tried grapefruit oil, and within two weeks it was remarkably better, and it was totally gone in a 4 weeks, and it has never returned.
Karla B. from Missouri:
I have recently started using grapefruit for my very oily skin and have had great results. I put it on each morning and night after I clean my face. I do not seem to be so oily.
#FOUR: Toenail growth and removal of mole
Can you imagine using grapefruit essential oil for toenail growth and removal of mole? Here are two testimonials that show results:
Pearl B. from North Carolina:
Upon reading that grapefruit oil is good for fungus on toenails, I decided to experiment by applying a few drops to my toenails. I was not sure if I had any fungus, but there were some whitish, flakey substances around the edge of the toenail where the cuticle grows. 

After about 2 months, one of my toenails was very loose. I pulled it off and found a new, pretty nail growing underneath the old. What a pleasant surprise.
Debbie P. from Texas:
I used a combination of grapefruit and frankincense on a mole that was bleeding. Within a couple of weeks, the mole was completely gone.
#FIVE: Unblocks blocked lymph glands, improves circulations and remove toxins
Grapefruit essential oil is known to help lymphatic decongestions. It removes bad toxic substances from our body. Lymphatic congestions are known to cause gout, renal problems, kidney problems and rheumatism.
Testimonial from Miranda P. from Georgia:
I got a recommendation from a chiropractor a few years ago about the use of grapefruit essential oil topically applied over areas where lymph glands were blocked. I would occasionally get painful spots, usually in my underarm, indicating blockage in the lymphatic vessels. 


One time of applying grapefruit essential oil neat on the sore spot has usually been all that was needed to open the vessel. Reminder: citrus oils do make your skin more sun sensitive!
Delores L. from Nevada used grapefruit oil:
I had slight warning of a stroke three years ago. When this happened to my mother I had some training on what to do. Working with a massage therapist I used Cypress on my legs and massaged my toes then used Grapefruit Oil, which is high in bioflanoids for strengthening. 
Three years later I have to watch my one leg going up stairs. But hey I'm 83 yrs. old still going strong and using my OILS.
#SIX: Overcome PMS and menstrual cramps
Some women literally have to lie in bed because of menstrual cramps. Yet some have to stay away from friends and family because of PMS. Here are two powerful testimonials.
Angie B. from Tennessee:
I started taking grapefruit oil internally for depression and to boost my metabolism. I have always struggled with cramps around my period, normally taking 4 Ibuprophen every 3 hours for 3 days. I always knew that wasn't good for my body but it was the only thing that let me function. I never dreamed that one of the positives I would get would be that I no longer cramp. 


Since I have been using the oils for 4 months, I have not had to take one ibuprophen for cramps, in fact have only taken them at all twice during the 4 months and that was before I learned that peppermint oil helps with headaches. These oils never cease to amaze me.
Tiffany R. from Arkansas:
While using Citrus Fresh with Ledum neat and Grapefruit by capsule daily for weight loss I discovered a beneficial side effect. I no longer suffered PMS symptoms. My hips don't loosen up, my abdomen and back don't cramp, and I have no mood swings.


I was taking 10 drops of Grapefruit in a capsule a day for the first month, but I only take one capsule once a week now for maintenance. 

Petrochemicals cause Endocrine disruption and mutate our cellular structure. With daily attacks from petrochemicals, we need to fight back daily. Petrochemicals are stored in fat tissue, which then collects more petrochemicals, which then collects more fat. Read 'Rub A Dub Dub, Are Toxins  In Your Tub' for a list of products with petrochemicals to avoid.
#SEVEN: Boost immune system and helps relieve earache
Grapefruit essential oil has disinfectant properties and can help with our immune system and reduce pain like earache.
Loreen N. from Nevada used it for her grandchildren to relieve earaches:
The second my grandchildren complain about a pain it their ear(s) while they have a cold, I use the Young Living Grapefruit oil and the V-6 oil because it can have a burning sensation on their delicate skin. I just put a drop on my finger and rub it behind the ear and down their neck where I think the Eustachian tube is. Then in front of the ear but never inside the ear or canal. Immediately after that, I apply the V-6 oil to help prevent any burning sensation. If you don't have the V-6, use almond or olive oil.


I would say 8 out of 10 times this has worked wonders for them and has taken away the earache. But always seek medical attention if the pain persists. I have also done this for myself when I felt like I was getting an earache and the pain went away completely. I have also used Citrus Fresh when I was out of the grapefruit oil.
June M. from Texas
Since I have been adding 4 drops of grapefruit oil to my (1 qt) drinking water each day I have not had – not one – common cold for over 3 years. It has to be the oil.
#EIGHT: Promotes energy
Grapefruit essential oil could increase your energy, clarity, concentration and focus.
Barb U. from Washington used it and it helped her focus. This is her testimonial:
I was at my office on a Sunday to catch up on necessary paperwork. I had to do it before Monday. But since it was December and a friend was having a mid-day open house for Christmas, I went there first. After a modestly spiked hot drink, a few cookies and a little fudge, I found it very hard to concentrate when I sat at my desk. My head was swimming and I felt very low-energy. 


So I took a bottle of grapefruit, held it under my nose and breathed it deeply for about 15 minutes. When I put it down, I was surprised to find that my mind felt completely clear and ready. I got my work done.
#NINE: Air refresher and repels flies
Grapefruit essential oil gives a refreshing aroma to our home and at the same time repels flies.
Joyce C. from Colorado discovered this:
Had a problem with flies buzzing around the food in the kitchen. Had a bottle of grapefruit handy and just opened it and set the bottle on the kitchen counter and the flies stayed away from the food.
#TEN: Refreshing drink without the calories and makes your salad tastier
By adding a few drops of grapefruit essential oil to our water will help those who dread drinking water to drink more.
Emma H. from Canada:
Do you have trouble drinking your quota of water each day? I added a drop of lemon and a drop of grapefruit to my water, and now I drink the appropriate amount of water and enjoy each mouthful. It also refreshes and renews me. 


Grapefruit essential oil comes from the rind of the plant and not the juice. So it is not the same as Grapefruit juice, which is contraindicated for some medications.
Grapefruit is also thermogenic, which means it literally eats fat. It is a natural diuretic so when you are feeling puffy and bloated, it is a great essential oil to use.
There is a lot of research about Grapefruit. Brigham Young University studied 74 different Young Living essential oils and found Grapefruit to be the most effective against inhibiting skin cancers.
If you do use Citrus oils on the skin – you should not expose the area to direct sun for 6 hours because the oil increases the sun's rays and you can get tan or burned in that area.
Citrus oils like Grapefruit are inexpensive and they are great to diffuse especially in the winter because their smell has been found to be mood elevating. Please let us know how you use Grapefruit Essential Oil and send us your testimonials. Leave your comment below.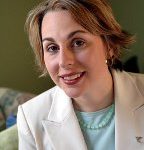 Dr. Mary Starr Carter is known as the Total Wellness Doc. She has been training individuals about Natural Health Solutions for over 13 years. She is trained as a Chiropractor and has studied under the world's foremost leaders in natural medicine. She is a mother and a wife and has created a balanced and total wellness life for herself and thousands of her clients using her simple wholistic approach to health and wellness. Her coaching, classes and ebooks help clients with Fibromyalgia, Hormone and Adrenal issues, Asthma, Diabetes, Weight problems, Thyroid and Chronic pain find resources and solutions to better health.

We publish newsletters and blogposts twice a week for our readers for general education purposes only. We cover topics that are related to achieving and maintaining total wellness which includes our emotional, physical, spiritual and financial health.