WELCOME TO OUR ZYTO COMPASS BIOBALANCE FREQUENTLY ASKED QUESTIONS. 
Here you will learn more about what a Zyto Compass BioBalance Scan is and how to interpret the results.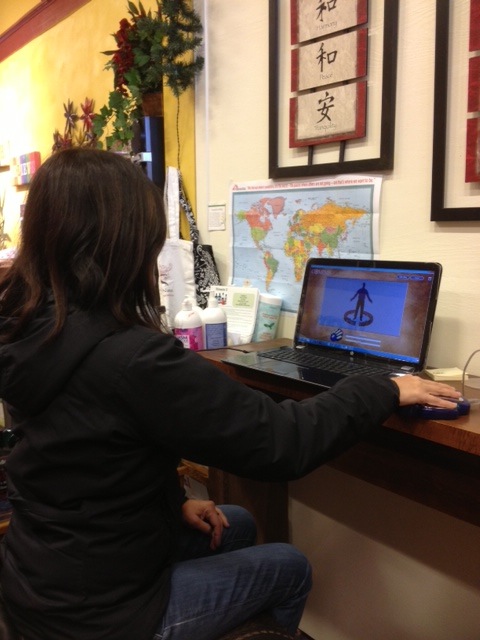 What is a Zyto Scan and how does it work? 
What is a Zyto BioBalance Scan?   
Interpreting your Zyto Bio-Balance Report 
Below is a detailed comprehensive report of all the Reports the BioBalance decision support software can give.  Most clients Standard Report explanation will be in the first 12 minutes of this training .   Additional report information is for advanced reports and Client Consultations. 
Frequently Asked Questions (Most of the answers are taken from the Zyto Compass official website):
What is a Zyto compass?
Zyto Compass uses your skin's electricity to determine which nutrition or essential oils will help your body's systems that are out of balance. It is not a technology that treats, cures or diagnoses. It is a tool designed to assist the individual in finding the body's preference for any list of items like essential oils, health choices and nutritional supplements.
None of us have a body that can talk back. Now you can take away all the speculations and presumptions. Let Zyto Compass do all the work for you and get the right "choices" every time.
Can you use Zyto compass on small children?
Yes. For small children you simply want to make sure that they are able to make contact with all six of the connector points on the hand cradle. This is often possible if they put both hands on the cradle. If the child cannot cover all of the connector points on the hand cradle with their hands you can instead place the hand cradle on the abdomen of the child.
Are the results accurate?
Yes. Health professionals using ZYTO technology have performed hundreds of thousands of assessments worldwide and report excellent results. I have scanned more hundreds of individuals and 99% of every client notes something on their report that correlates to their current physical health or challenges.  
Are the results reproducible? How long should I wait in between scans?
ZYTO technology measures the most rapidly changing field in the body, the energetic field, which processes 400 million impulses of information per second. When dealing with complex mind-body systems, repeatable measurements are not always expected. However, in most instances successive assessments will produce comparative results; each assessment will present a picture that is comparative in a meaningful way to the other assessments.   
In order to receive the most accurate results on subsequent scans you need to wait at least three days before scanning a person a second time. Your average client should be scanned about once every 4-6 weeks once health changes have been made.  Initial scans give baseline information and subsquent scans can be reviewed to see progress, but please note every moment in time is different for our bodies.  Including differing hormonal cycles,  sleep patterns, hydration, stressors, and wellness.  
How much do BioBalance Scans cost?   Dr Mary and StarrHealth offer Scans and emailed reports for $75, additional Consultation time with Dr Mary is $125.  Or clients can choose to do a Consultation time with Zyto Compass Scan with Dr Mary  for $175 which includes the Advanced Report, recorded notes, and a 30 day follow up chat.    
Can it be used to treat or diagnose?
No. ZYTO technology does not treat, cure or diagnose. It is a tool designed to assist the individual in finding the body's preference for any list of items. This information is used to make better decisions about personal health and preference for nutritional supplements. Even though this information has obvious value, the results of a Compass assessment are not diagnostic.
If there are no Zyto Compass technicians near you, you can purchase a compass  here.
For more information and more FAQ, please check out Zyto Compass official website.